I know I've said this for all of my yearly lists, but this year has been an incredibly great year for films. Looking back, I'm a bit disappointed of what we got in 2018. Though there were a lot of great and really enjoyable films, there wasn't much in the way of truly remarkable films. 2019, however, has no shortage of excellence in the realm of motion pictures. I love and adore every one of these films for vastly different reasons from one another, which goes to show how much variety this year had in store. This list is purely my opinion, faintest apologies if your #1 isn't even mentioned here (not really sorry). Also, I haven't seen all of the movies I wanted to before making this list, but I'd never publish this if I waited to watch x movie. For transparency sake, I have yet to see The Lighthouse, Marriage Story, Waves, The Farewell or Portrait of a Woman on Fire. (actual apology to A24, they're doing the lord's work)
*those films are the ones I can currently think of, but if you're wondering about my opinion on a given film, leave a comment or follow me at Letterboxd @elkevino (shameless plug, I know)
Honorable mentions go to Joker, Ready or Not, Toy Story 4, Avengers: Endgame, Fighting with My Family, El Camino: A Breaking Bad Movie and Ford v. Ferrari
12. Uncut Gems
"Jews and colon cancer. What's up with that? I thought we were the chosen people."
How is it that we're ending the decade with Adam Sandler actually becoming a possible frontrunner for an Oscar? Through the good graces of the Safdie Brothers, here we are. Sandler is at an all time high here, playing a gambler who is at a perpetual fight of keeping his head above water. His natural charm and charisma makes the character of Howard much more likable and endearing than what was probably intended, which actually acts as a major plus here. The words "chaotic", "loud", "messy", "Weeknd" come to mind, and with the Safdie Brothers at the helm, the chaos is sometimes orchestral in its execution. This is a seedy world of violence, money, betrayal with constant brushes with death: to play it straight would do it a disservice.
(also the score is AMAZING and Kevin Garnett is actually pretty great)
11. Ad Astra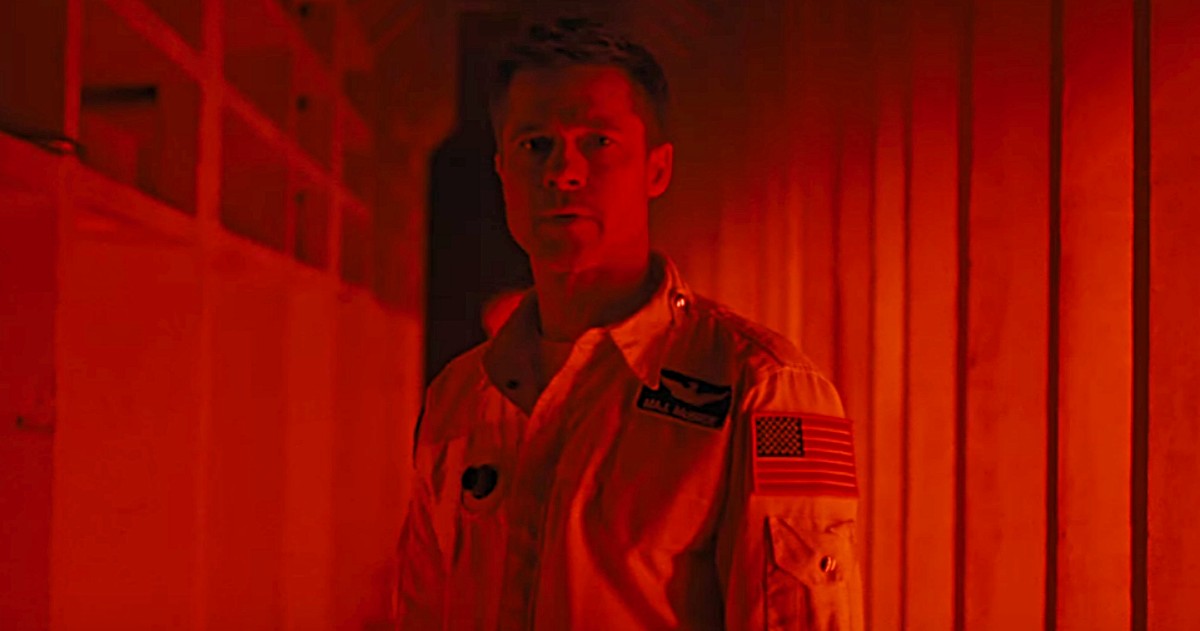 "The zero G and the extended duration of the journey is affecting me both physically and mentally. I am alone. Something I always believed I preferred. I am alone. But I confess it's wearing on me. I am alone. I am alone."
I wouldn't consider putting this film on a "best of" list to be controversial, but I feel like I should explain myself, especially how the marketing absolutely butchered this film in an effort to make it more marketable and "appealing" mass audience that may or may not be drunk off the notion that sci-fi should only be loud, bombastic spectacle. Ad Astra is first and foremost a character study, a drama that uses the quiet, lonely vacuum of space as its backdrop. It's gorgeously helmed by James Gray, who perfectly captures the cold loneliness of the protagonist that compliments its setting. It's a quiet voyage of self discovery, regret and coming to terms with the sins of the father. Complete with one of Brad Pitt's best performances ever, Ad Astra is a visual masterclass that has a coldly regretful narrative at its core.
10. 1917
"They're walking into a trap. Your orders are to deliver a message calling off tomorrow mornings attack, if you fail, it will be a massacre."
In recent years, the war genre has caught a sort of second wind. From the struggles of faith found in Hacksaw Ridge to the adrenaline fueled terror of Dunkirk, 1917 focuses on the quiet yet turbulent horror of war. Taking place in WWI, two British soldiers are tasked to deliver a message that will prevent the British from walking into a trap. It's presented to look like a single, continuous take (a la Birdman) which is an insanely impressive technical feat on its own. Sam Mendes once again shows his directing chops by delivering a story that constantly moves from location to location, calamity to calamity. Every obstacle, every hurdle has absolute consequence, whether it be big or small. Expertly lit by the legendary Roger Deakins, 1917 is an intimate, suspenseful and harrowing look at the immediacy of war.
9. Rocketman
"My name is Elton Hercules John. And I'm an alcoholic. And a cocaine addict. And a sex addict. And a bulimic. Also a shopaholic and has problems with weed, prescription drugs and anger management."
First off, the soundtrack SLAPS. Taron Edgerton has no right to be this good of a singer, let alone for Elton John songs, Secondly, Rocketman is an absolute joy of a film. Less of a traditional biopic and more of a drug fueled memory, Elton John is detailing his life upon entering rehab: the beginnings of a promising career that turn into super stardom with every kind of addiction known to man following suite. The musical sequences are expertly captured by Dexter Fletcher (who actually helped complete Bohemian Rhapsody when Bryan Singer got booted off the production) , who rightly directs this musical with energy and momentum that is becoming of a story about Elton John. Taron Edgerton has never been better and it pains me that he'll probably get snubbed in this year's Oscars. With a superb supporting cast and an affinity for the decadent, Rocketman is a textbook example on how biopics and musicals, though thought to be tired and tried out, can still amaze.
8. Midsommar
"I think I ate one of her pubic hairs."
Though it may not be for the faint of heart, Ari Aster's Midsommar (which is actually based on my first year at youth camp) is an affective, immersive and unsettling look at the human condition, particularly grief and toxic relationships. A common criticism that I've seen about the film is the lack of focus on Dani's family given their presence is the cause of her grief (tip toeing around spoilers), compared to Hereditary examining the before, after and falling out of a tragedy that is deeply rooted within the family. While I will agree with the assessment that Dani's family is given less screen time than Charlie from Hereditary, I have always seen Midsommar as how one chooses to grieve after a tragedy, how one carries themselves after a life changing event, how to find solace and peace in a life that has mostly been bleak and soulless. The film is ultimately one of self-love, a perverse and extremely f*cked up fairy tale of how to move on from inescapable tragedy.
7. Jojo Rabbit
"Jojo Betzler: Nothing makes sense anymore.
Yorki: Yeah, I know, definitely not a good time to be a Nazi."
This film as a whole exemplifies how incredible the cinematic artform can be: an insane premise that could have gone disastrously wrong and offended every corner of civilization turns out to be a hilarious, poignant and heartbreaking satire. Taika Waititi's shines through every frame, presenting a coming of age tale of a Hitler youth whose imaginary friend is the Fuhrer himself. In its execution, what could have been a colossal misfire is one of the most interesting, emotional films I've seen this year. With stellar performances by Thomasin McKenzie, Scarlett Johansson and newcomer Roman Griffin Davis, Jojo Rabbit is a stunning piece of vital satire.
6. Booksmart
"Amy: Time for us to do what we do best.
Molly: What's that?
Amy: Motherf*cking homework."
Olivia Wilde's feature film debut is certainly a tread on familiar territory: two best friends who want to party it up the night before graduation. The difference here is the characters, one of the best ensemble casts of the entire year. Kaitlyn Dever and Beanie Feldstein have a chemistry that instantly won me over. These are best friends who want nothing but the absolute best for each other, and their support for one another is contagious. The sense of humor is raunchy but never feels too gratuitous or overboard, even with some scenes that can only be described as "out there". The pacing is appropriately relentless given the film's span of time and the insanity these characters go through. Hilarious, endearing and "on", Booksmart is a brilliant addition to the resurgence of great high school films.
5. Knives Out
"It's a weird case from the start. A case with a hole in the center. A donut."
I'm gonna do my best in not mentioning The Last Jedi or Star Wars here, but it's safe to say Rian Johnson has pulled off the heist of the century. Knives Out is what of the most ingenious and clever films of the year, held by its tricky screenplay directed with the wit that matches the written word. The star studded cast is used to perfection, Daniel Craig, Chris Evans and Ana de Armas being the obvious standouts. Also, it's always a treat to see Christopher Plummer given such rich material. The trailer promised a whodunnit like no one's "dunnit" and, well, yeah *shrugs*. Knives Out is an original property that is brimming with charm and intrigue, and a healthy obsession with donut holes.
4. Little Women
"Well. I'm not a poet, I'm just a woman. And as a woman I have no way to make money, not enough to earn a living and support my family. Even if I had my own money, which I don't, it would belong to my husband the minute we were married. If we had children they would belong to him not me. They would be his property. So don't sit there and tell me that marriage isn't an economic proposition, because it is. It may not be for you but it most certainly is for me."
Greta Gerwig follows up her outstanding Lady Bird with another adaptation of the famous book by Louis May Alcott that could very well be the definitive version of this story. Saoirse Ronan and Florence Pugh (the year she's had!) are on expectedly top form with, Emma Watson, Eliza Scanlen, Timothee Chamalet, and Laura Dern rounding out the brilliant ensemble. It's Gerwig's writing and directing that elevate the familiar material. The look inside this family going through the highest highs followed by turbulent woes is incredibly emotional. It might be the most emotionally resonant film I've seen this year, with themes of family, love, conviction, loneliness and regret encapsulating this film, sometimes all at once. (Saoirse Ronan and Florence Pugh are taking over this decade JUST YOU WAIT).
3. The Irishman
"Sooner or later, everybody put here has a date when he's going to go. That's just the way it is."
Ahhh yes, Cinema! Martin Scorsese yet again makes another mob film… with Robert de Niro… and Joe Pesci… and it's over three hours long. Sounds familiar? Scorsese knows it does, and instead of making "just another mob movie", he delivers a eulogy of sorts: to the genre, to his body of work as well as the actors' work. A wonderful analogy I found about The Irishman is that is starts as being directed by Goodfellas Scorsese and ends with Silence Scorsese at the helm. Rightfully so: the film acts as a meditation on life and the cruelty hindsight and regret can provide. Traditional film structures crescendo to a deafening conclusion, whereas The Irishman fades into bleak, colorless silence, just like its protagonist. Robert de Niro and Al Pacino give the best performances they have all decade, showing the world they are still masters of their well worn craft. Joe Pesci is an absolute tour de force, portraying an uncharacteristically quiet and held back heart of this world. After 50+ years in the game, Martin Scorsese exemplifies why he is the greatest living American filmmaker, making a 3.5 hour film that never drags or loses interest, making a picture that is as vital as his other masterworks.
2. Parasite
"If I had all this I would be kinder."
One of the few times when a film is hyped to such an absurd degree, and it's completely justified. Parasite is a masterful, wildly entertaining yet socially conscious film that I can't stop thinking about. Bong Joon-ho once again has made something that is infinitely greater than the sum of its parts. The writing, directing, acting, music, editing come together to make a cinematic anomaly. Joon-ho's juggling of different tones and even genres is incredible, managing to find the humor (and horror) in every situation the characters find themselves in. The cast is literally perfect, completely realizing the full and distinct potential each character has, both individually and as a collective. It's a satire that has so much to say about class difference, symbolism, family values, what it actually means to attain a better life. Parasite is a confident, scathing, pitch-perfect and dark examination on a family's desire to move on up.
Once Upon a Time… in Hollywood
"When you come to the end of the line, with a buddy who is more than a brother and a little less than a wife, getting blind drunk together is really the only way to say farewell"
There's something about a Tarantino film that's just inherently special. It might be his reputation for all his many traits as a filmmaker, or maybe the fact that he now numbers each of his films as he approaches his tenth and (apparently) final picture; or perhaps because he's become the epitome of a film lover's filmmaker.
Whatever it may be, his ninth feature not only has all the hallmarks that has made him a household name, but is also an infectious love letter to Hollywood and cinema as an art form. Nearly every aspect of Hollywood is impeccable: it could be the incredible production design that saw the revival of 1969 Los Angeles, the iconic soundtrack complete with radio jingles, or the bat sh*t ending. However, what I found most refreshing about this film, more than any other film I've seen in 2019 is the importance of breathing. Far too many films are concerned with urgency and fear any time allotted to characters being themselves, reacting to their situation and the world around them. This film has people just hanging out, dealing with the changing times, wondering if their prime has long left them. I especially love the portrayal of Sharon Tate, who has almost never not been associated with her murder instead of just the quality of her work. Here, in a film about coming to grips with change, Margot Robbie portrays Sharon Tate as a figure of kindness, optimism, excitement and all around good heartedness. This is a person who's fruitful and promising life was horrifically cut short, and here's a film that asks "what if?"
The dialogue, the performances, the music, and the general vibe of Once Upon a Time… in Hollywood feels special, like a gift from a filmmaker who lives and breathes celluloid, inviting us to one last stroll down memory lane to do the thing that is the essence of moviegoing: to forget reality for a bit.